24 Incredible Music Acts Inc. Fun Lovin' Criminals, Heather Small (M People) & The Stunning
Great food Sharon Shannon's Garden of Vegan, Teddy's, Saba & Bray's Box Burger
2 Action Packed Days for Families, Little Groovers Have Plenty To Entertain them!
All Conveniently Just 2km off the N11, a Short Journey from Dublin.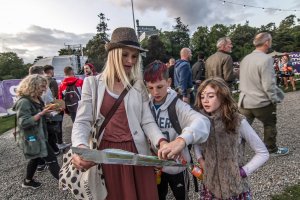 Summer 2018 will sizzle to the sound of Fun Lovin' Criminals, Heather Small (M People), The Stunning, Something Happens, Jerry Fish, The Riptide Movement, HamsandwicH and many more outstanding music acts at the sixth incarnation of Groove Festival, brought to you by Energia. Put July 7th & 8th 2018 in your diary for a weekend of sun (we have ordered it!), great music, quality festival food with something for every palate, lots of laughs at the Live Lounge all topped off with the fabulous backdrop provided by Killruddery House & Gardens in the heart of Wicklow.
Groove Festival, brought to you by Energia, ranks amongst the top Irish independent festivals and with good reason. Since its debut in 2013, Groove has established itself as a quality bespoke music festival. Each year sees a host of new additions and this year is no different. The renowned Culture Vultures curated by leading journalist Tony Clayton-Lea takes over the Live Lounge daytime on Saturday and Sunday. In the evening it morphs to become the Hardy-Har Comedy Club with some of Ireland's brightest lights on the comedy scene including Adam Burke, Eric Lalor, Aoife Dooley and Emma Doran.
The Eskies and Bitch Falcon headline the Sony Xperia Stage this year, known as a hotbed of new talent this stage is always surrounded by keen music fans looking to hear the next big act before they break. Specially for 2018 the legendary Groover Jerry Fish will perform an intimate set; expect some crowd surfing from him and a performance to remember!  Other acts include Mark Geary, The Wood Burning Savages, Marc O'Reilly and REWS ensuring that the Sony Xperia Stage will surprising and entertaining all weekend.
Groove Festival does not disappoint in the food offerings either. Banished are the traditional "fare" and brought in are a list of carefully chosen food stalls to whet all appetites. Sharon Shannon's Garden of Vegan returns after selling out their food at Groove 2017! Dublin's Saba make the journey to Wicklow with their incredible Thai and Vietnamese cuisine. No summer weekend would be the same without a 99 and we have the east coast Kings of ice cream, Teddy's, serving up their long-established recipe. Killruddery's own renowned chefs will be preparing food reared on the grounds; how's that for organic farm to fork credibility!, And we also delighted to welcome back Bray's iconic Box Burger, who have promised to produce a special burger, produced just for Groove.
Little Groovers are well entertained and welcomed each year and for 2018 we've gone even bigger. For teens we have an adventure and a half with the Hell&Back team curating a bespoke course for them, and any parents who might want to join in! The smallest Groovers have the Little Top which will be filled with a day of entertainment provided by the Silly Billy team from gates opening to early evening. Of course no trip to Groove would be complete without a go in the Zorbs on the Killruddery lakes.
Getting to Groove is made really easy because of our location. Just 2km off the N11 it's super handy for drivers as we have parking on site. Those on the DART can hop on a shuttle from Bray station to Killruddery.
Speaking about the weekend, Avril Bannerton, Festival Director said "Groove 2018 is set to be our most exciting year yet. We have a the perfect combination of top international acts mixed with the best of Irish talent all with the backdrop to what has to be one of the best festival sites in Ireland. Killruddery is the ideal setting for Groove, I am always struck by how such an extraordinary serene setting can exist on the doorstep of Dublin. "
So there you have it, what else would you be doing on July 7th & 8th but joining the fun in the sun on a Bray-cation at Groove Festival, brought to you by Energia.
Tickets are on sale now from www.groovefestival.ie or tickets.ie retail outlets
-ENDS-
For more information on Groove Festival 2018, please contact:
MASONRY
Kathryn – 087-262 7977 Email: km@MASONRY.ie
Alexa – 087-227 3870 alexa@MASONRY.ie
If you do not wish to be receive further information from MASONRY
please let us know and we will remove you from our mailing lists.
Notes to Editors:
Groove Festival, brought to you by Energia, 2018
Fun Lovin' Criminals, The Stunning and Heather Small – The Voice of M People headline this year's two day festival now in its sixth year.
Taking place at Killruddery House & Gardens, Bray, Co Wicklow.
Dates July 7th & 8th 2018
Saturday main stage Fun Lovin' Criminals, The Riptide Movement, Something Happens, Mack Fleetwood, Brave Giant & State Lights
Sunday main stage The Stunning, Heather Small – The Voice of M People, HamsandwicH, Kíla, Fallen Lights, A Cult Called Man
Sony Xperia Stage headliners Saturday – Bitch Falcon, Sunday – The Eskies
Families Introducing for 2018, Groove Magical World of Mysteries and Outdoor Activities with our new partner Hell&Back. The best independent festival for families who can mix the festival environment with lots for all ages to do!
Live Lounge New for 2018 – Join the Culture Vultures team for a day filled with pop culture in a music and words event. In the evening the stage is taken over by some of Ireland's best new comedians all hosted by the Hardy Har Comedy Club's Adam Burke.
Food Featuring Box Burger, Killruddery's own chefs, Sharon Shannon's Garden of Vegan, Teddy's Ice Cream, Saba plus many more carefully curated food offerings, this is not your usual festival food!
Gates open 12.30pm daily until 10.30pm
Age guidance: All ages welcome, infants and babies one and under do not need a ticket. Special family tickets which offer exceptional value available.
Ticket Information:
Adult day tickets (Saturday / Sunday)           €65.50 including booking fee
Adult weekend tickets                                               €106 including booking fee
Teen (16-17) day tickets                                             €27.50 including booking fee
Teen (16-17) weekend tickets                                    €53.50 including booking fee
Children day tickets (under 16)                                 €11 including booking fee
Children weekend tickets (under 16)                         €20 including booking fee
Family day tickets (2 adults & 3 children)                 €135.50 including booking fee
Family weekend tickets (2 adults & 3 children)         €225 including booking fee
All attendees under 18 must be accompanied by an adult. Group tickets are available for groups of 10 or more and can be booked directly at bookings@groovefestival.ie. Groups of 10 or more can save on the applicable booking fees. Tickets are on sale now from http://groovefestival.ie/info/or from www.tickets.ie and their retail outlets.
Like on Facebook @GrooveMusicFestival
Follow on Instagram @GrooveFestival
Follow on Twitter @GrooveFestival
Visit Killruddery House & Gardens website at http://www.killruddery.com/